Horn of Plenty is here to provide you with the finest quality fresh, natural, organic and whole foods, nutritional products, body care products and health information in a fun comfortable clean, safe environment. Make us your doorway to total health--twenty-four hours a day, seven days a week all year long!
Our store has been open since 1977, spanning four generations in our family! Our dedication is to our customers and their health. We are now offering new and exciting services.
Health & Wellnes Services Offered by The Horn of Plenty 
Ionic Foot Detox System
Fee: $20.00 per session
This is a new way to detox your body. The process involves simple priniciples of electrolysis and  osmosis to draw the toxins out of the body through the skin of your bare feet and into a tub of water. We do this in a quiet area in the back of the store. It takes only thirty mintues every other day for fourteen sessions. 
Hair Analysis 
Fee: $120.00
Hair stores minerals and reflects their intracellular levels. Science has discovered that minerals in hair represent overall nutritional patterns in the human system.
We send a sample of hair to the lab where they give detail information on what you are deficient in. Also the presence of potentially hazardous pollutants such as lead, cadmium, mercry, nickel and aluminum can be readily determined. 
Body Composition Analysis
Fee: $10.00
We use our tanita machine to analyze your body composition looking specifically at: Basal Metabolic Rate, Body Mass Index, and Body Fat, and then we advise accordingly.
Le Pore Kinesiology
Fee: $25.00
This involves a technique using biofeedback to see how a person will respond with an item. We can use this in a consultation setting to see which items an individuals body will get the biggest response from. 
Private Supplement/Nutrition Consultation
Fee: $50 for 30 minutes
Our private consultation is a tailored sit down with the client to address their individual needs. It allows for us to get to the  bottom of any issues they may have. We include the LePore Kinesiology as part of our consultations.
To make an appointment for any of these services please call the store at 225-644-6080. 
Meet Our Staff
Adam Howell - Man of Many Hats
Adam has worked at the Horn of Plenty since 2004 and is excited to continue his family legacy of helping others through natural, holistic means. He is a member of the American Botanical Council, American Herbalist Guild, as well as the Louisiana Cannabis Association, NFIB, BRAC, Ascension Chamber of Commerce, and more.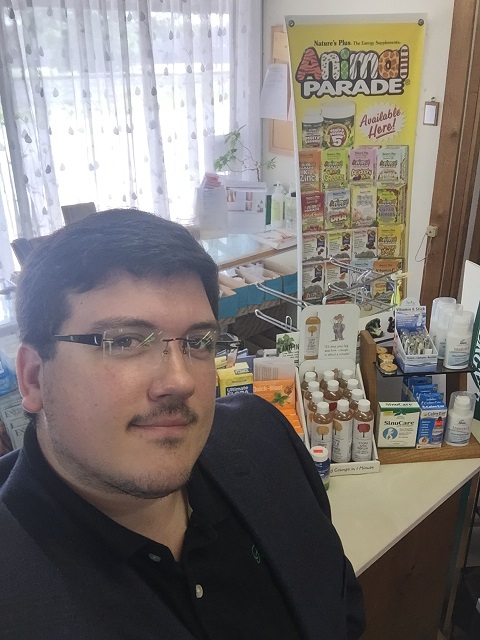 The Horn of Plenty Store Policies/Services
Return Policy
Our Store Retun Policy is Store Credit on ALL products. No exceptions. Sorry if this is an inconvenience.
Consultations
Our policy for consultations with the Owner (Sharon Skinner) is that there is a fee of $1 per minute spent with her.